MANSE HILL -CERTIFIED PASSIVE HOUSE PREMIUM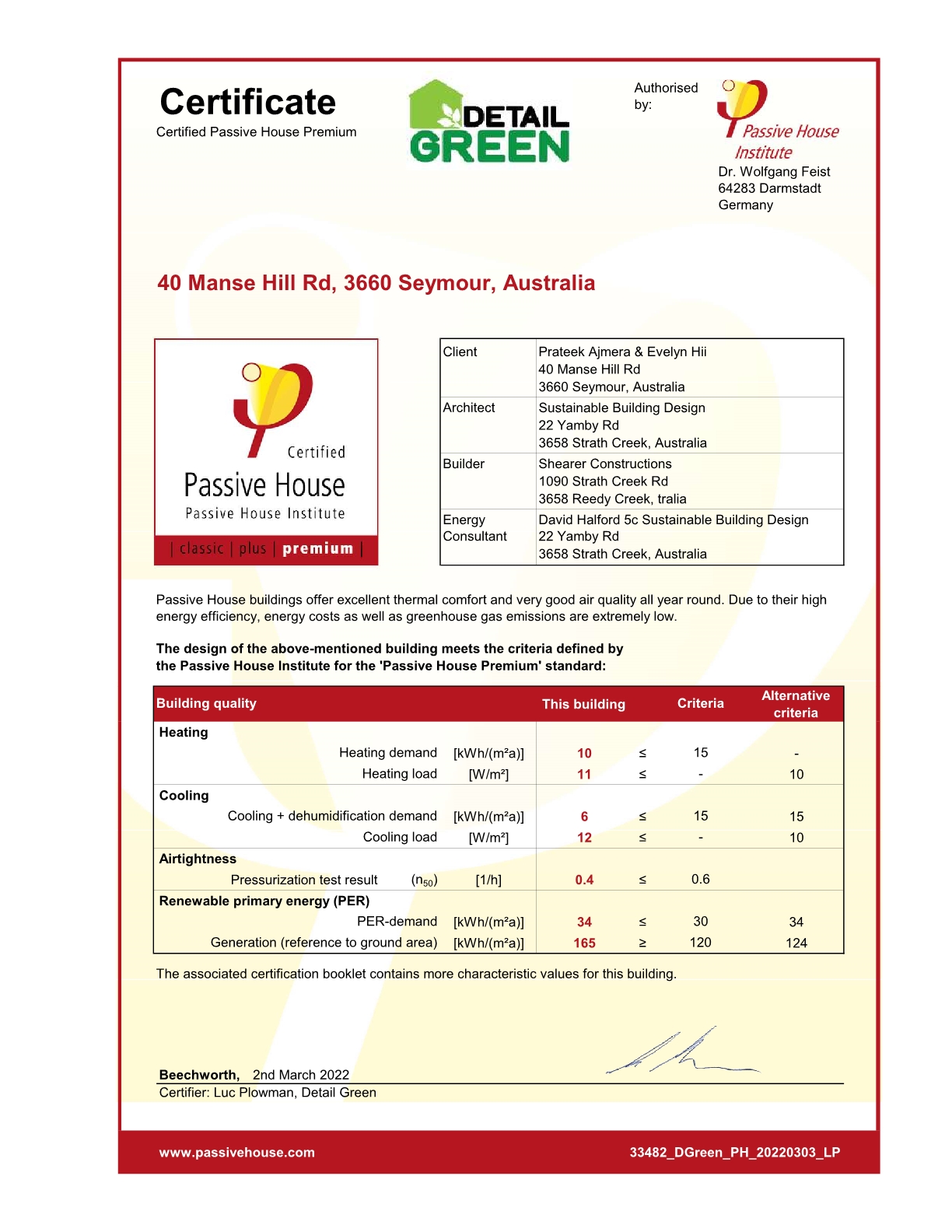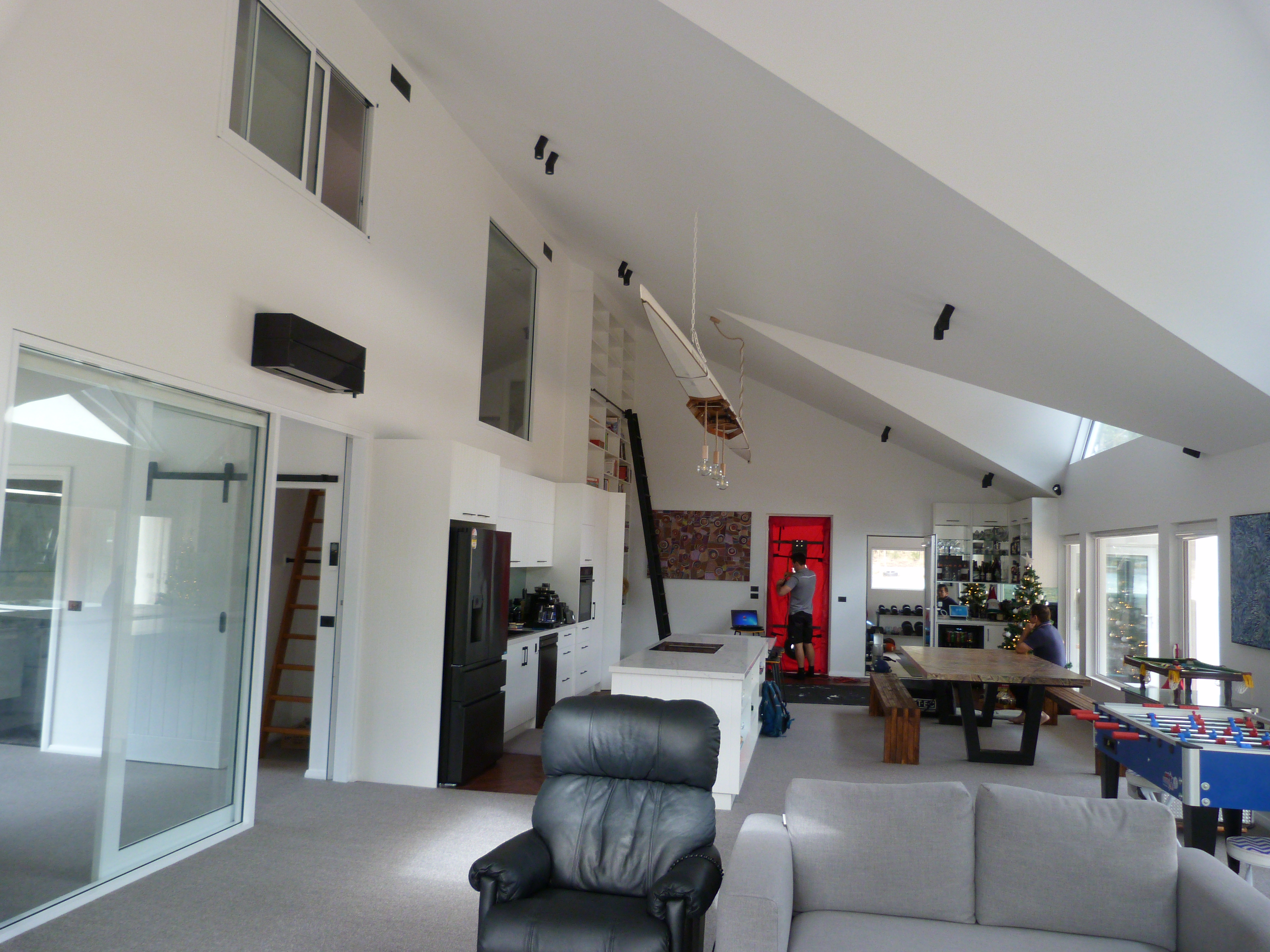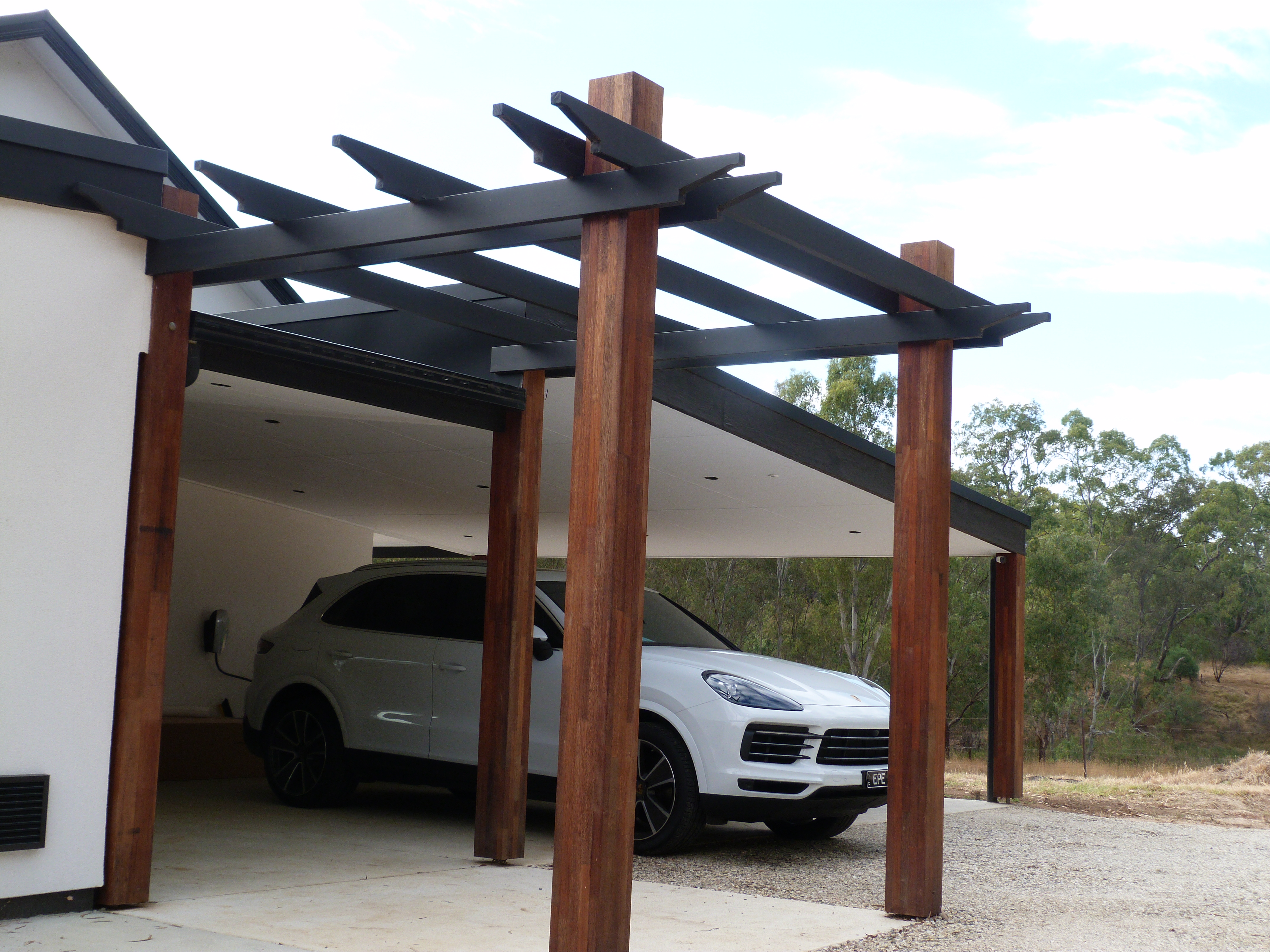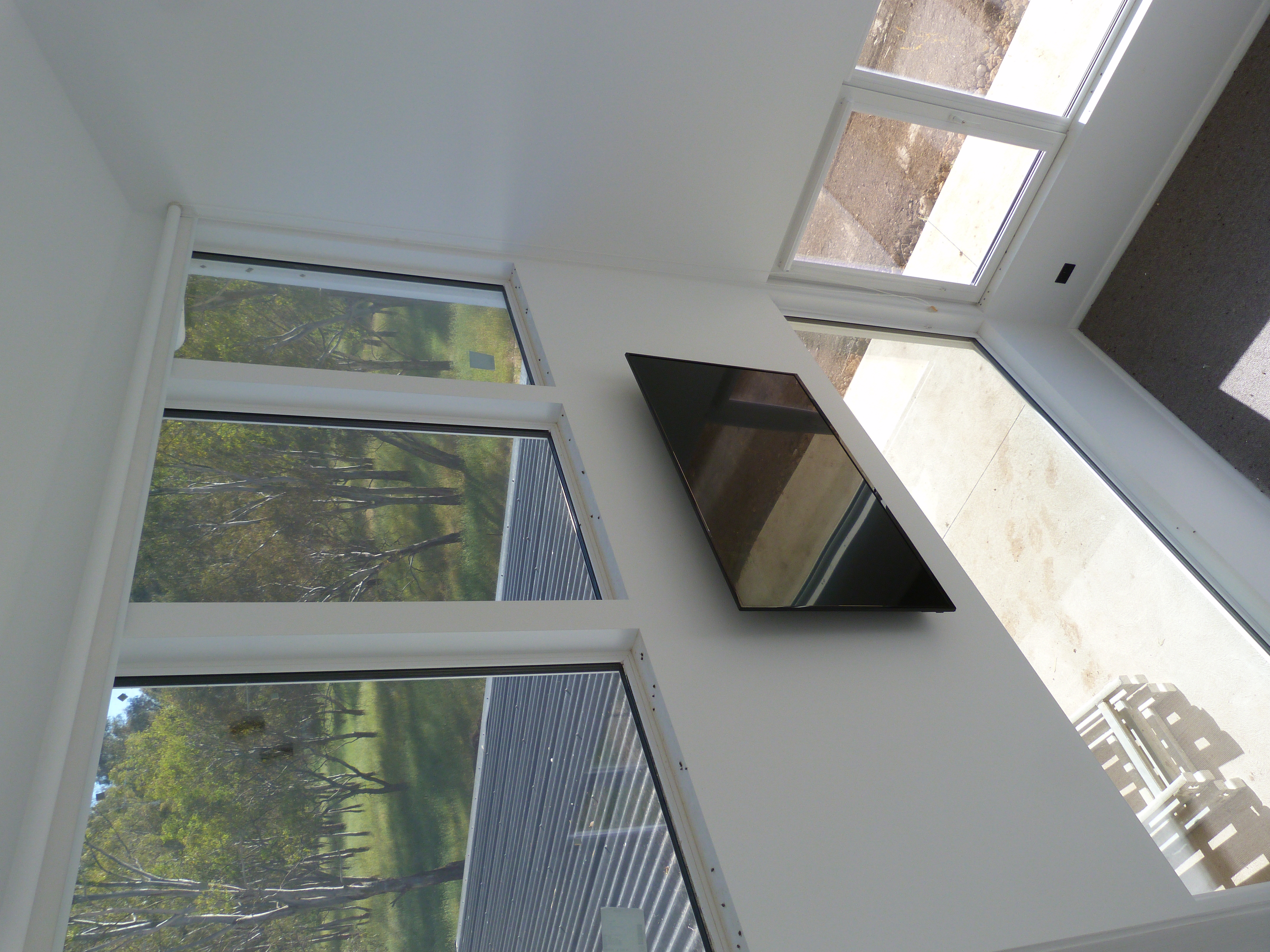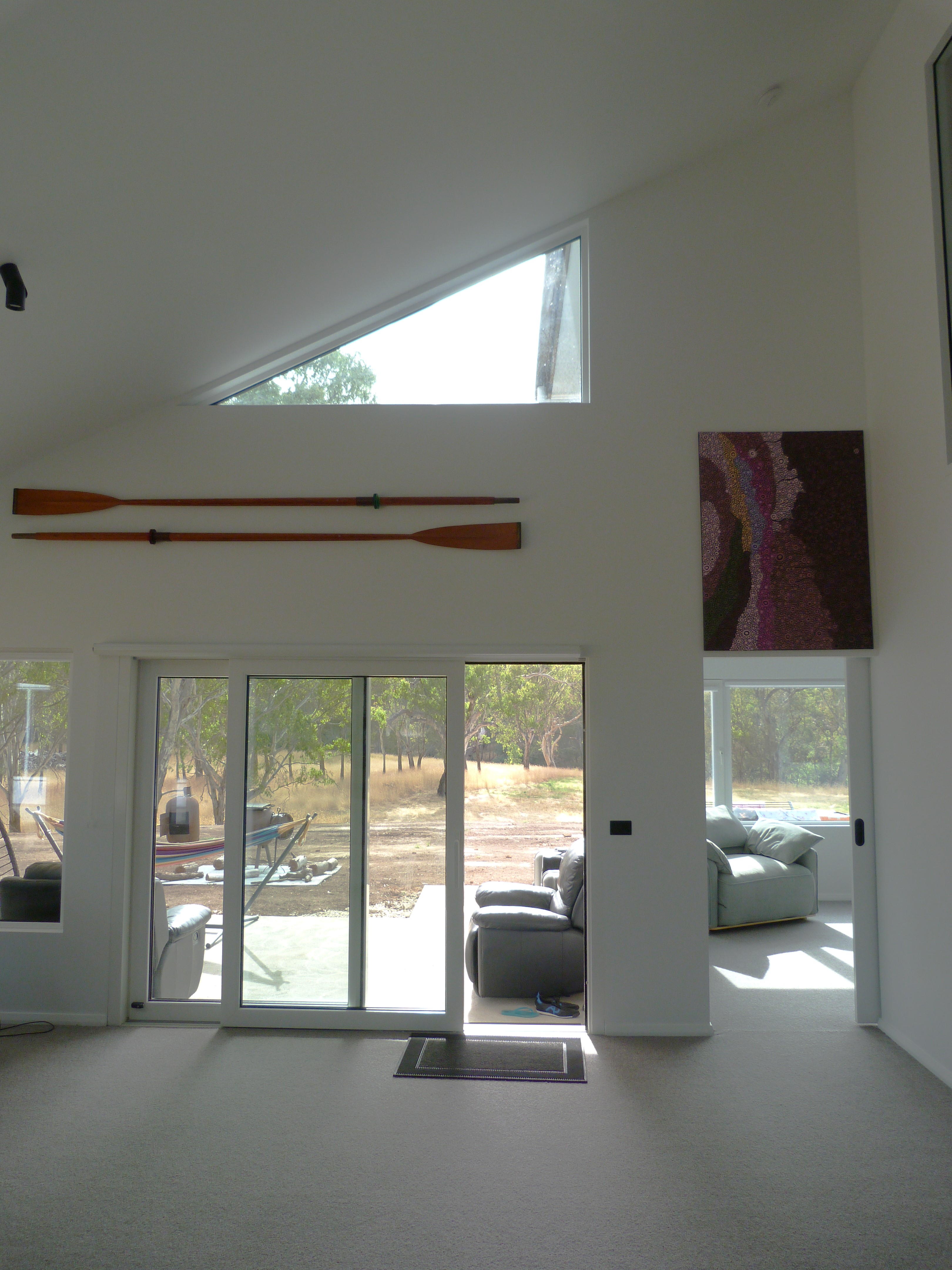 PHI Database ID 6958 https://passivehouse-database.org/index.php?lang=en#d_6958
APHA Database https://passivehouseaustralia.org/APHA/Certified-Projects/Manse%20Hill.aspx
General Information
Certified Passive House Premium
new build
Building type: detached single family house
Location: AU – 3660 Seymour Victoria
Description:
Manse Hill: On the banks of the Goulburn River. Double height living area with generous glazing facing the sun. Fixtures include a library with a "secret" door, a bar and a boat suspended from the ceiling.
Standard timber frame constructed off site with bushfire rated insulated render cladding, Concrete slab insulated above with floor paint on screed. Local Upvc windows triple glazed against road noise. The original design which was limited by the budget has now been supplemented with a gym and swim-spa room. The first building in Victoria Certified Passivhaus Premium and one of a few in Australia. It has a dedicated electric vehicle charging point and also meets Liveable Housing Standard and Bushfire requirements.
Number of apartments / units: 1
Treated Floor Area according to PHPP: 192 m2
Construction type: prefabricated timber construction
Year of construction 2021
Other parties involved
Architecture: David Halford, 5c Sustainable Building Design
Building services: David Halford, 5c Sustainable Building Design
Building physics: David Halford, 5c Sustainable Building Design
Certifier: Luc Plowman, Detail Green
Craftsperson / parties involved: Shearer Homes
Thermal envelope
Exterior wall: Standard timber frame with rendered insulation cladding U-value = 0.158 W/(m2K)
Basement floor / floor slab: Concrete slab with XPS and screed over slab. U-value = 0.776 W/(m2K)
Roof: Timber rafters with glasswool insulation. U-value = 0.124 W/(m2K)
Window Frames: Kommerling Upvc frames, Kommerling bushfire rated Upvc U w-value = 1.1 W/(m2K)
Glazing Triple glazing U g-value = 0.7 W/(m2K) g -value = 5 %
Entrance door Kommerling Upvc door U d-value = 1.16 W/(m2K)
Mechanical systems
Ventilation Zhender, ComfoAir Q350
Heating installation No dedicated heating equipment required. Reverse cycle air conditioning sufficient.
Domestic hot water Stiebel Eltron integrated heat pump hot water system.
Additional information
Ecological aspects: All water from rainwater harvesting. PV array makes building Passivhaus Premium.
PHPP values
Air tightness n50 = 0.38/h
Annual heating demand 10 kWh /(m2a ) calculated according to PHPP
Heating load 11 W/m2
PE demand (non-renewable Primary Energy) 75 kWh /(m2a ) on heating installation, domestic hot water, household electricity and auxiliary electricity calculated according to PHPP
PER demand (renewable Primary Energy) 34 kWh /(m2a ) on heating installation, domestic hot water, household electricity and auxiliary electricity calculated according to PHPP
Generation of renewable energy 165 kWh /(m2a ) based on the projected area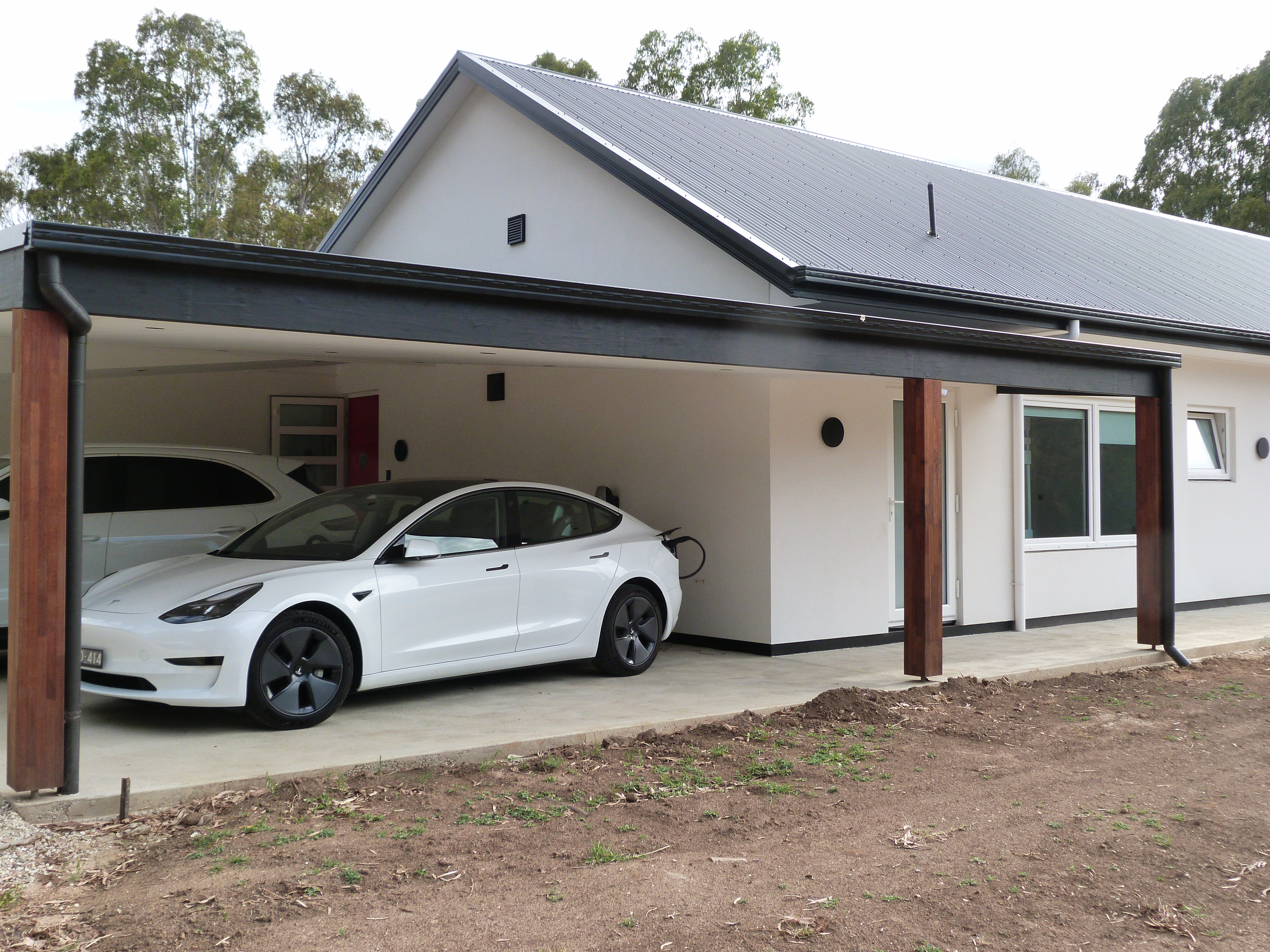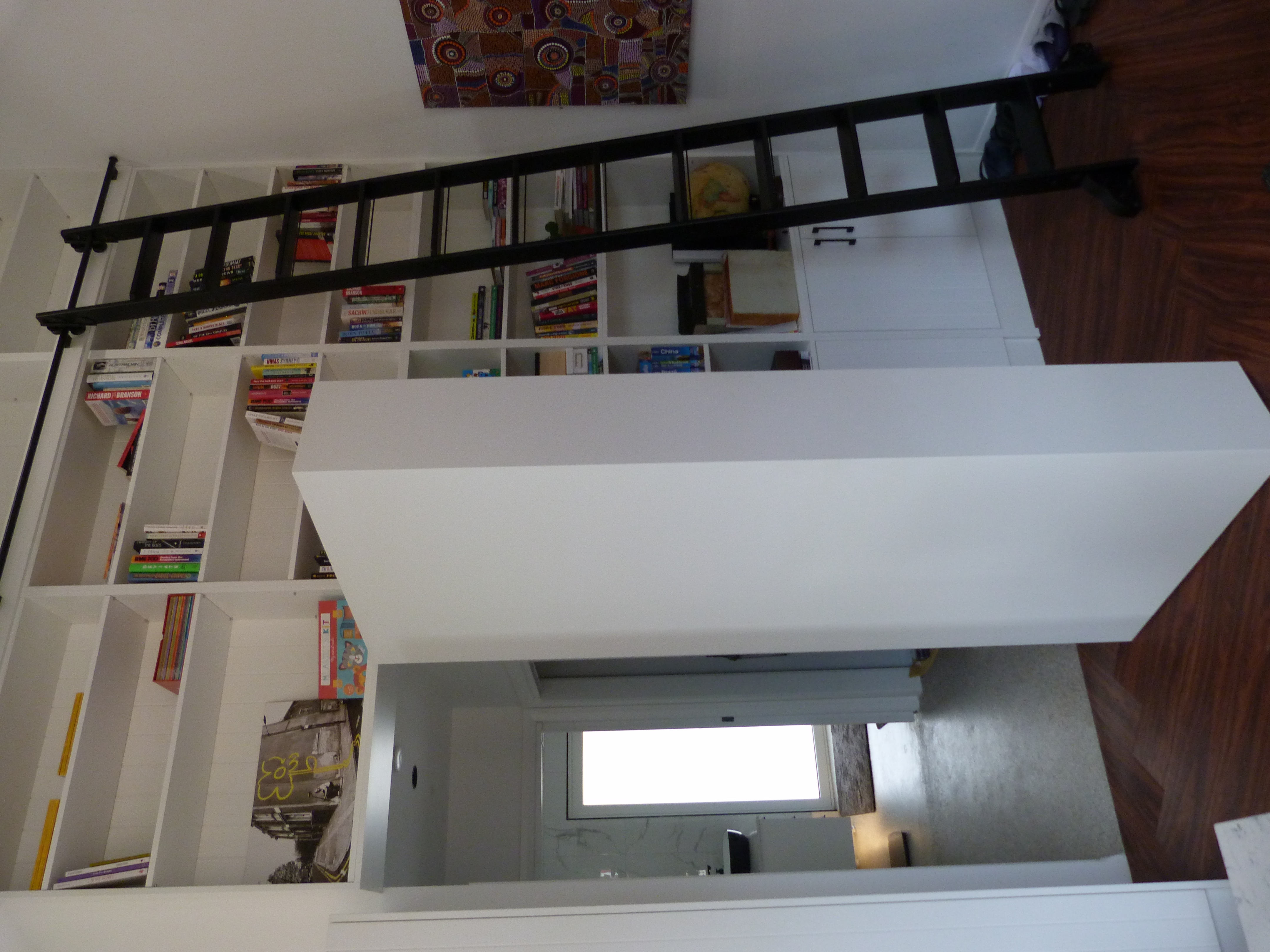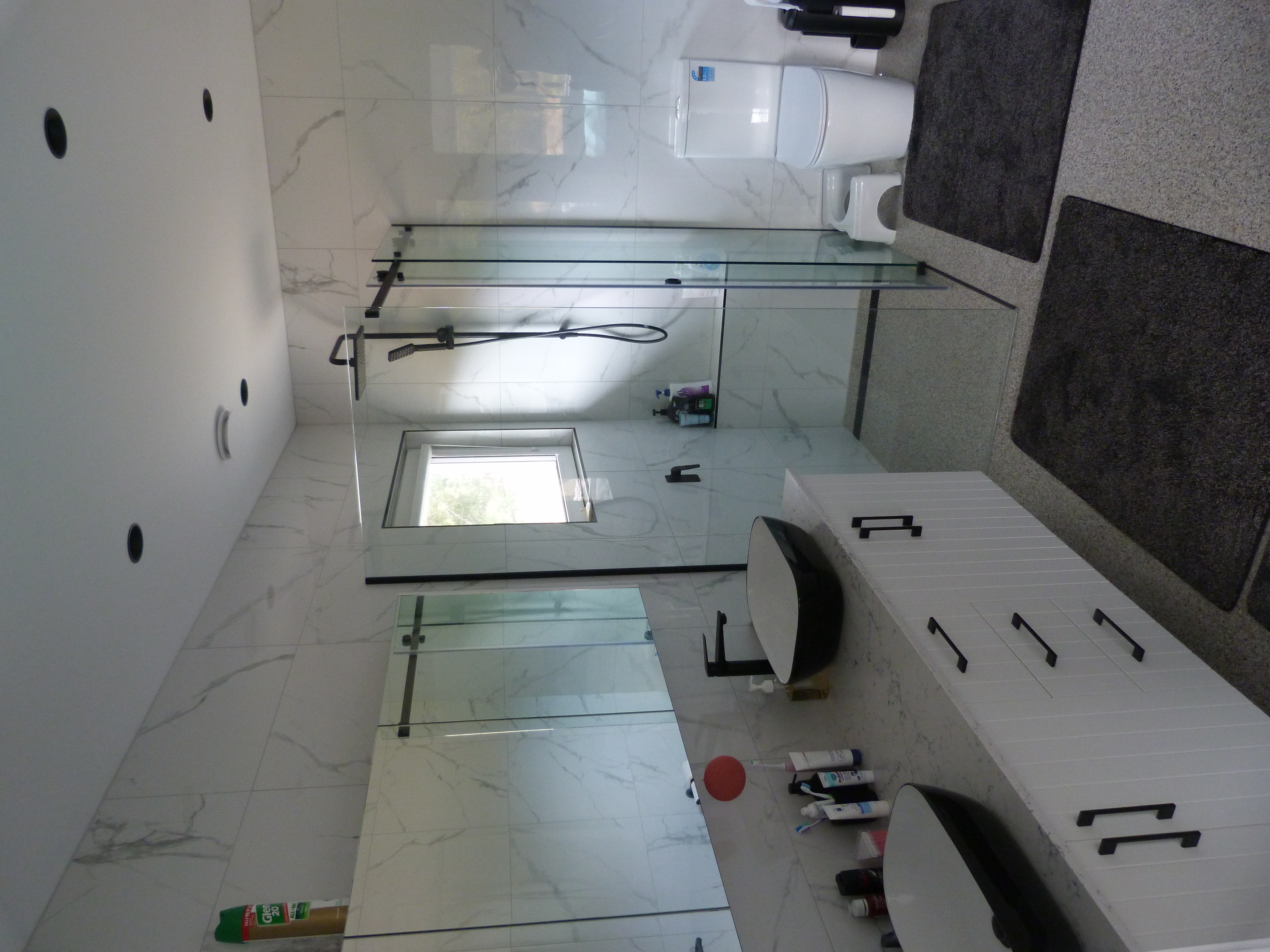 Electric vehicle charger - Secret door in library shelves - Painted concrete screed floor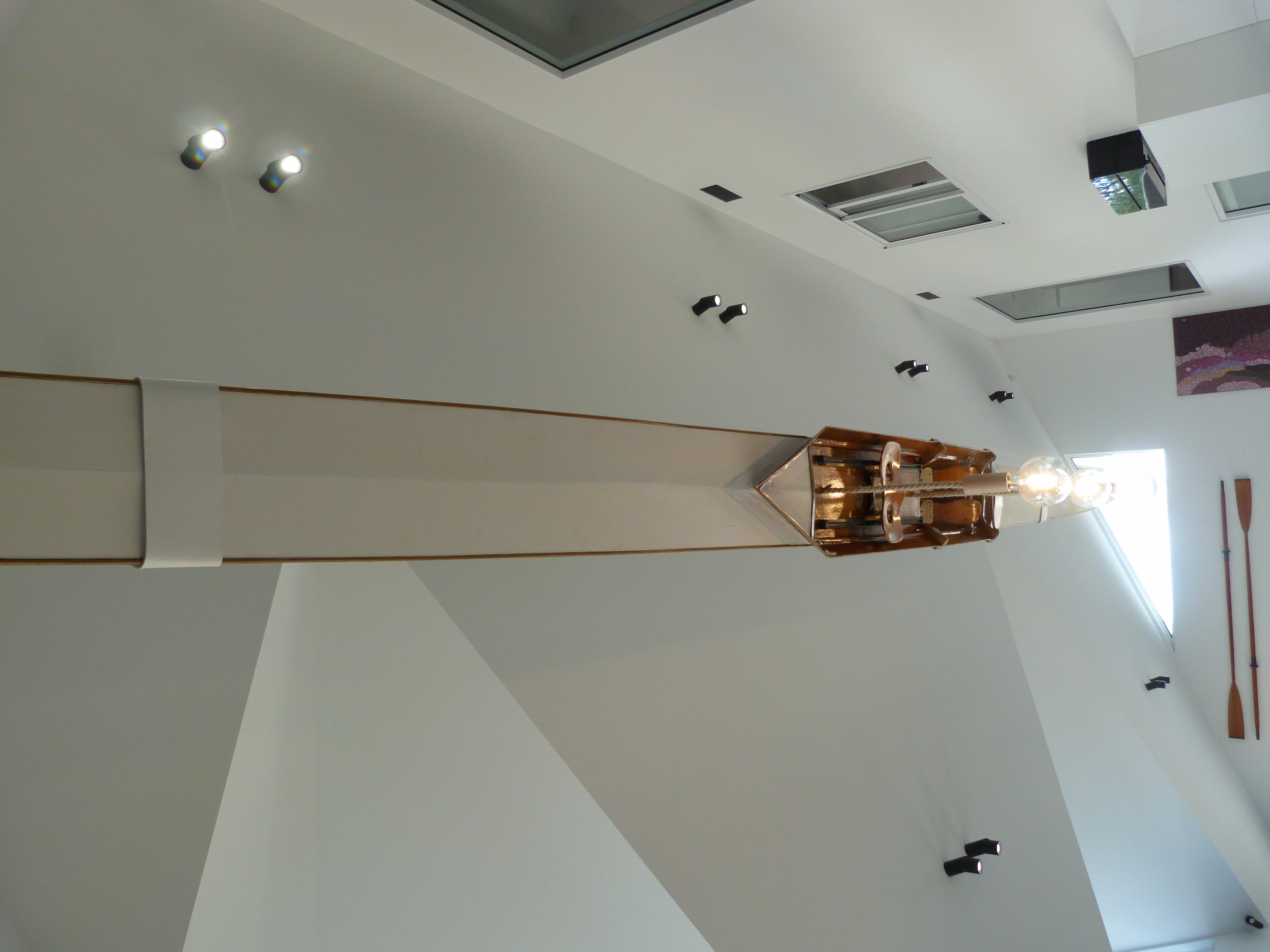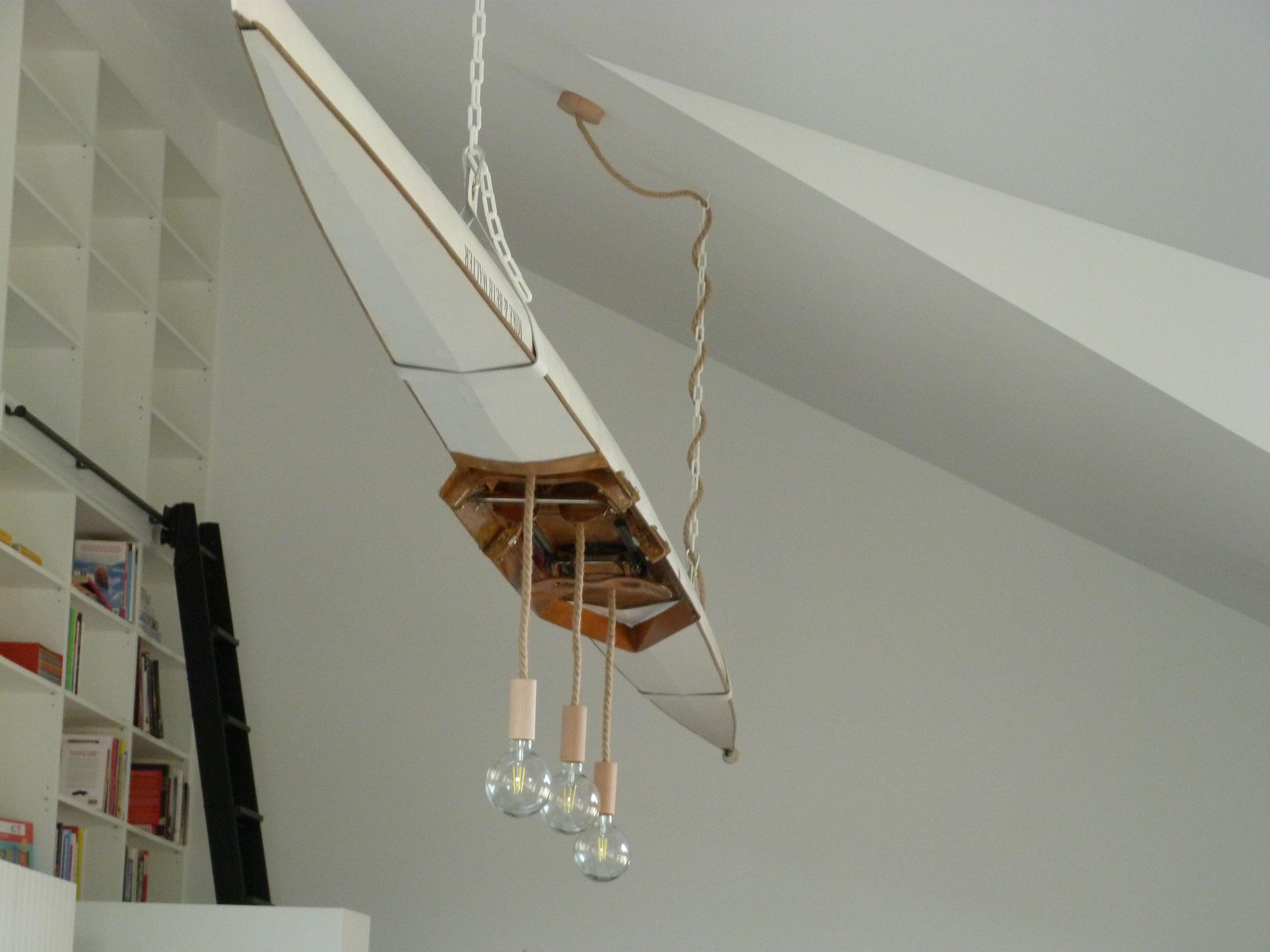 Boat suspended from ceiling