Casacurvatura
PHI database ID:6198
Certified Passive House Plus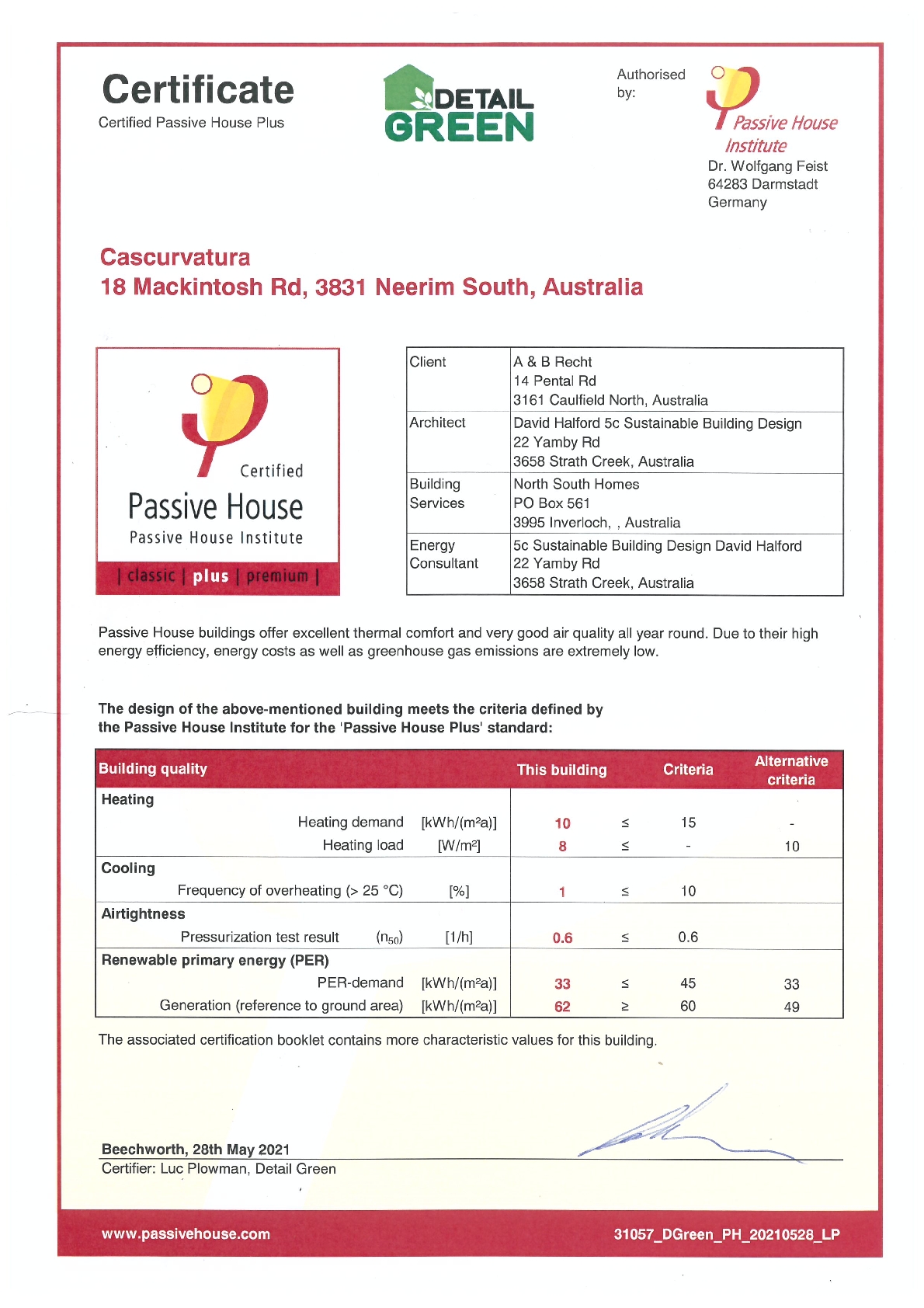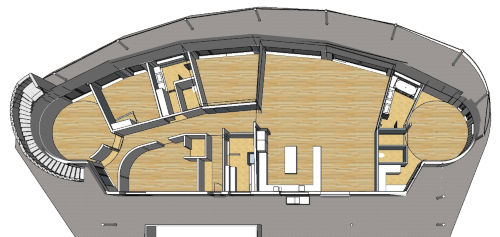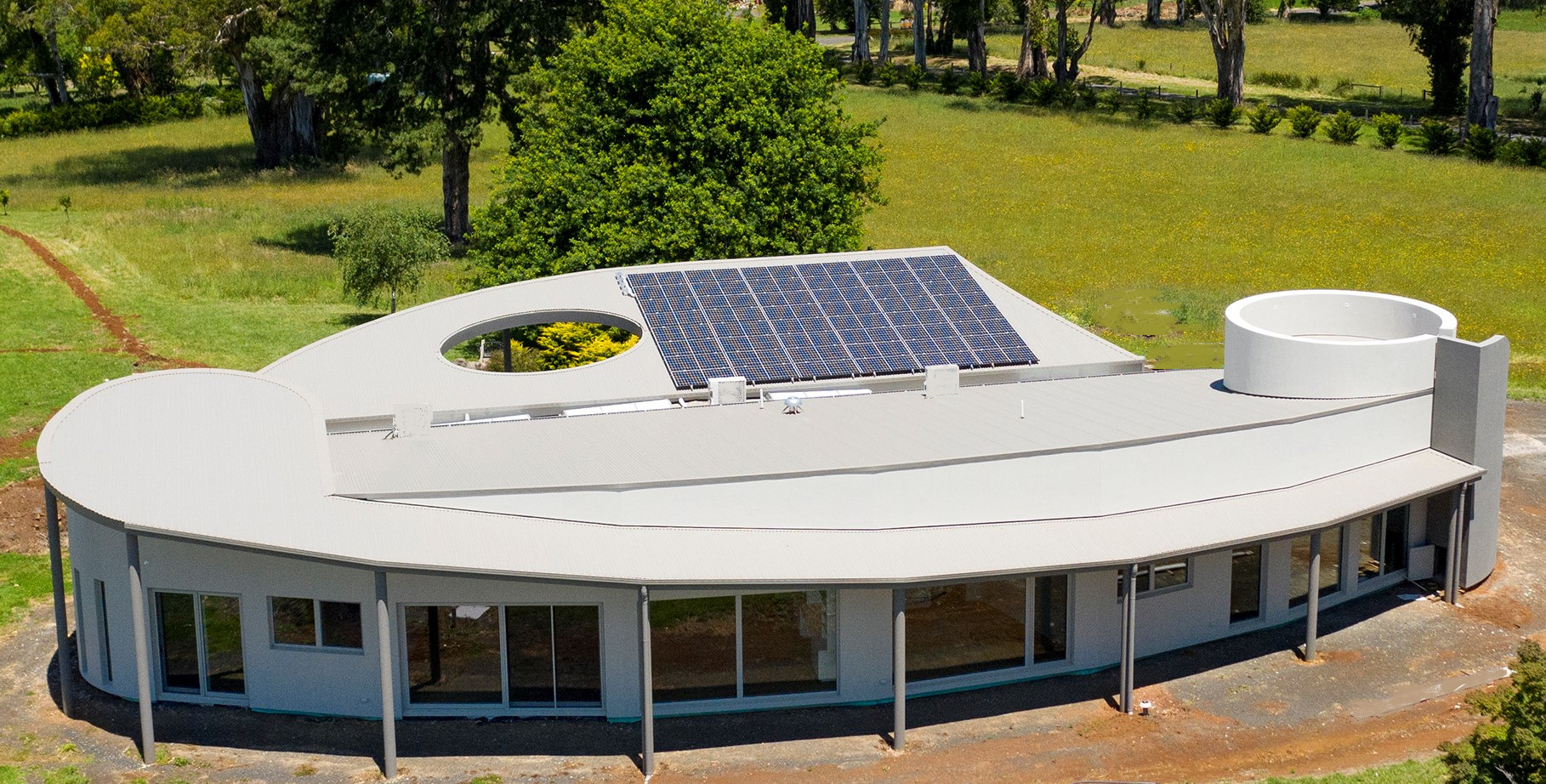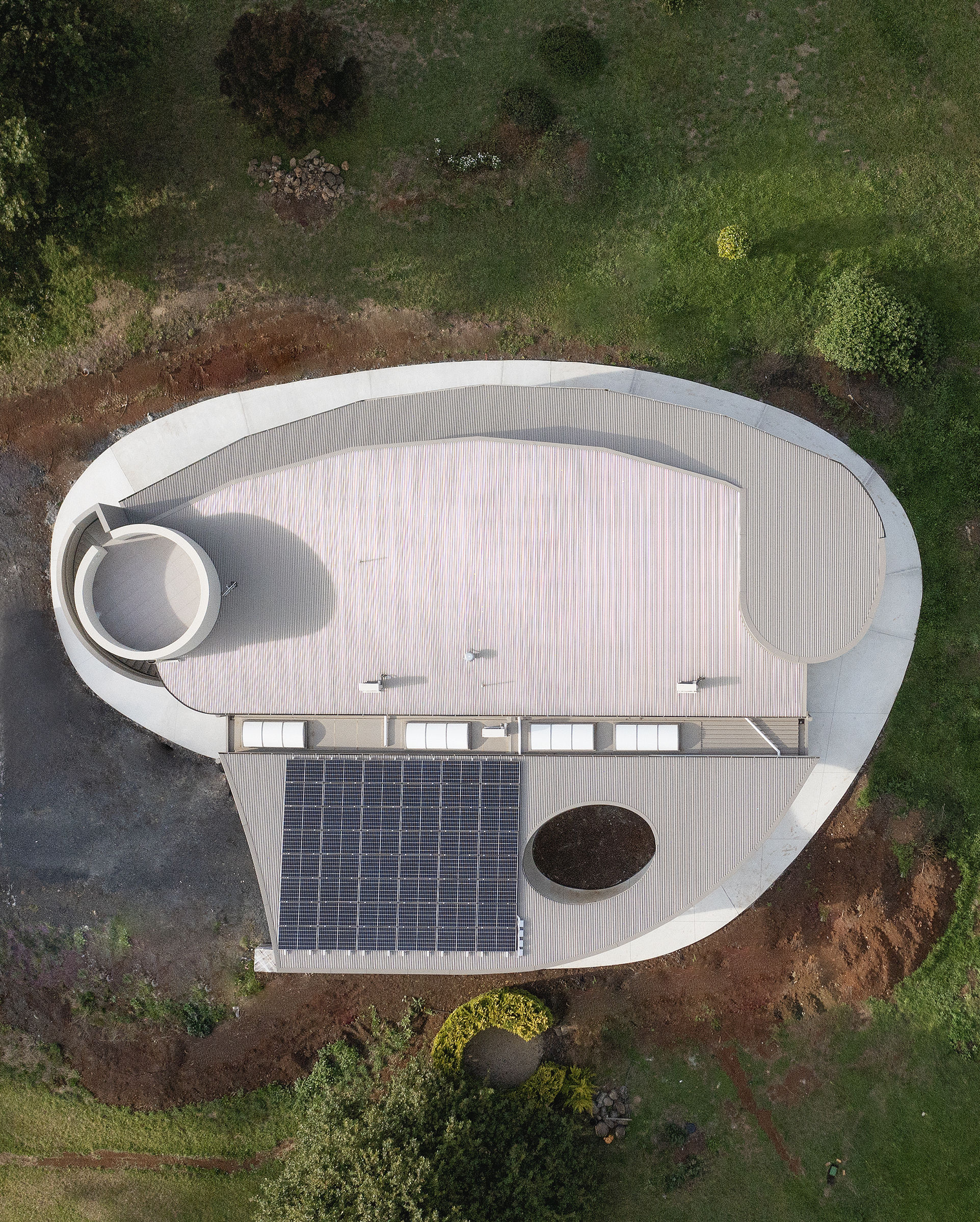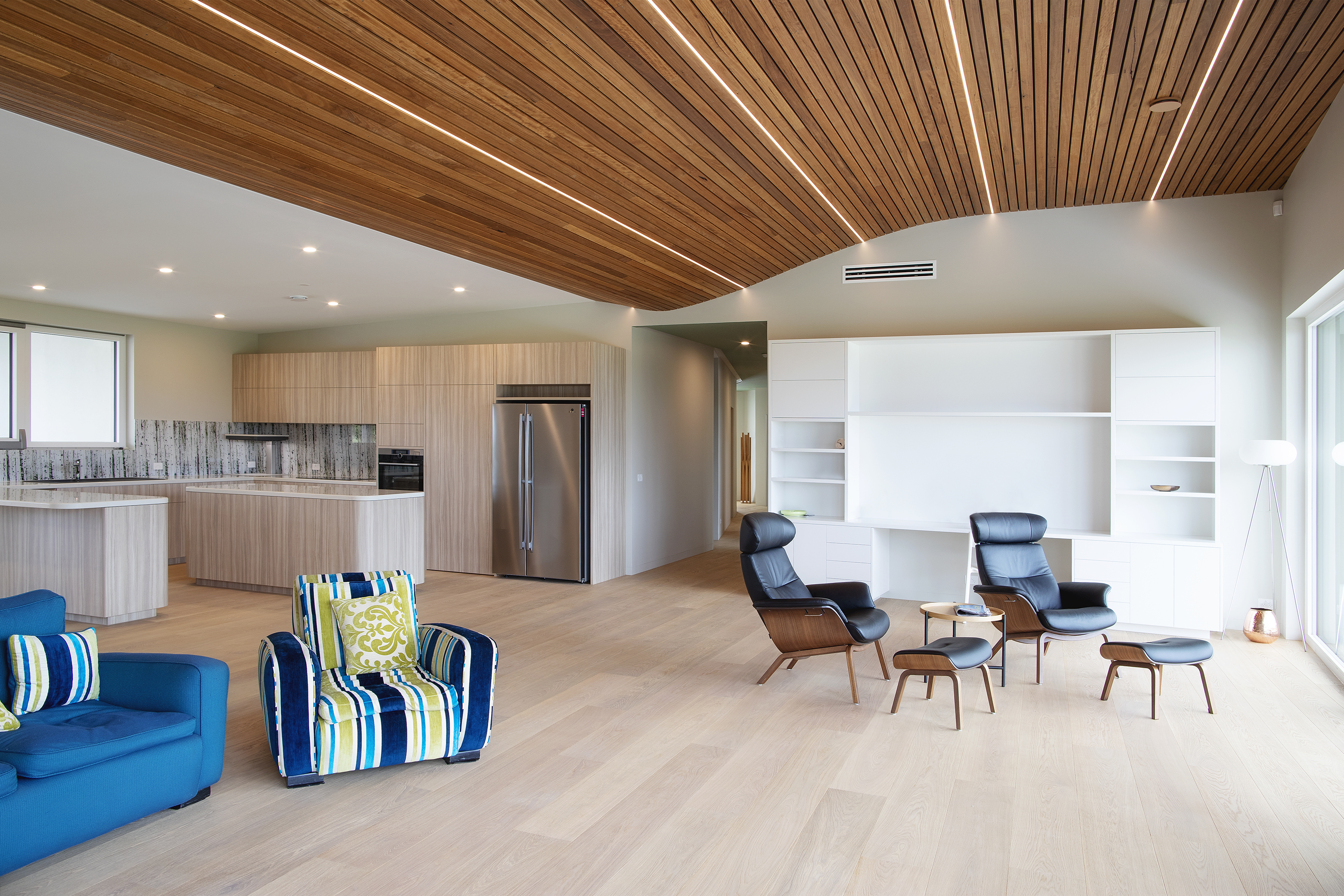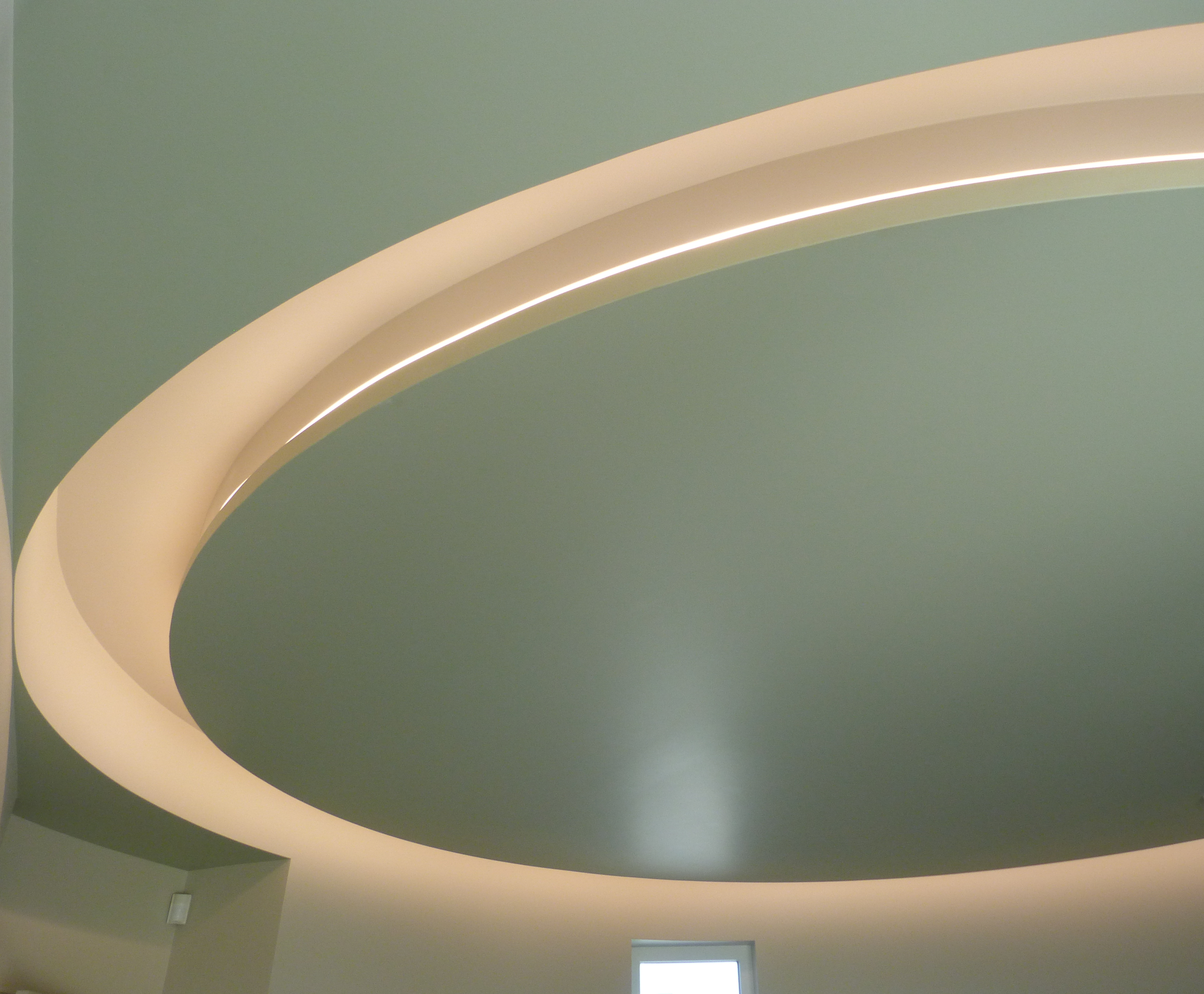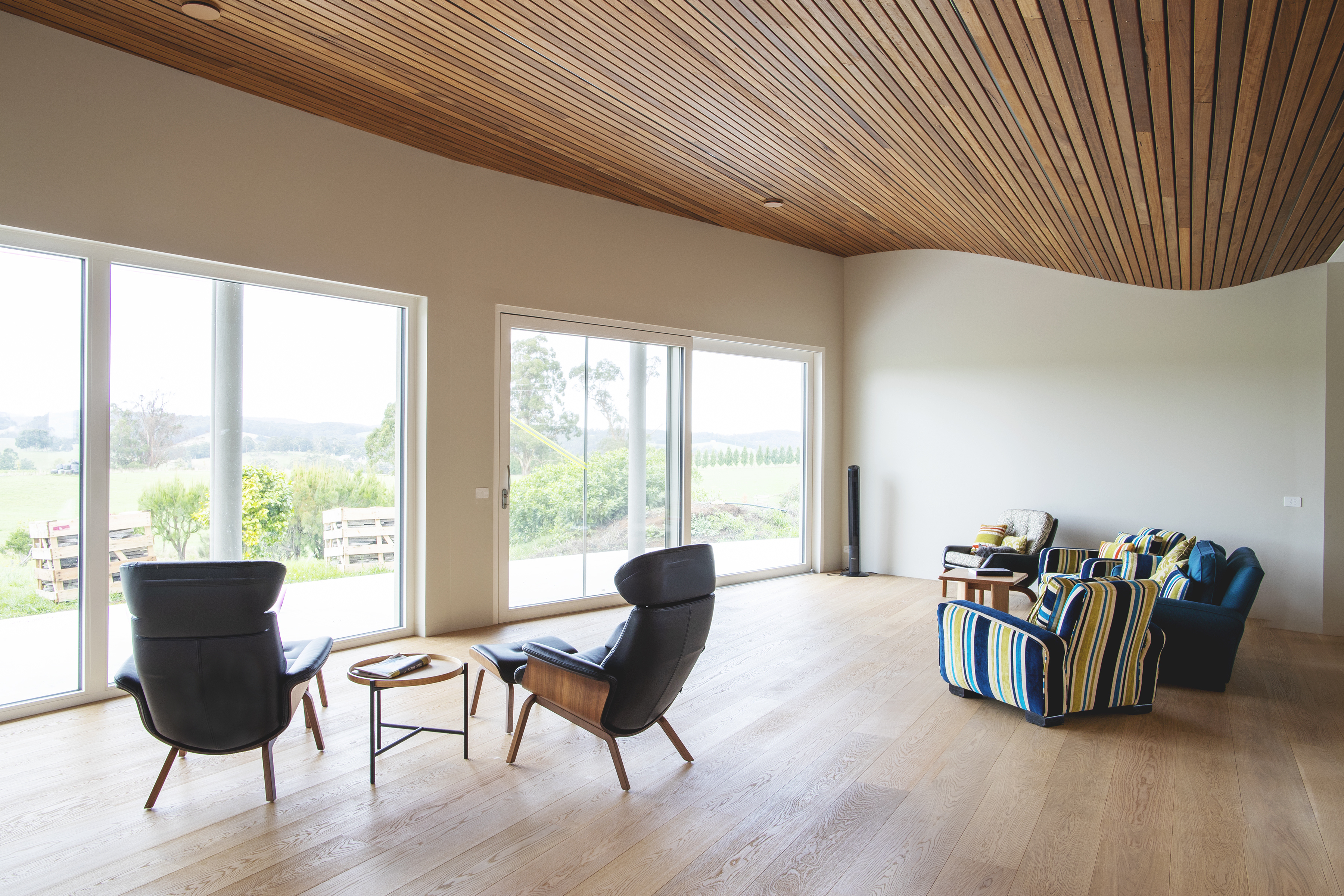 CasaCurvatura: The brief for a house with curves is satisfied with a curved plan, circular rooms, spiral stair to a circular star gazing turret, curved internal walls and a curved ceiling. The veranda canopy spirals around the curved walls and up over the main roof to become the roof of the eastern rotunda. This canopy expands in response to the solar exposure as the façade sweeps round to address the view. Despite these apparent complications, the geometry is carefully calculated and regular which has allowed the Panellite prefabricated panel system for walls and roof to be manufactured off site from the CAD drawings and installed without a hitch. The pv array with batteries makes the house energy self-sufficient. Winner of two national awards. It also meets Liveable Housing Standard and Bushfire requirements.
General Information
Video: A virtual tour with the builder can be seen at www.youtube.com/watch?v=ZgnV0AVJWyc
Awards: David Halford Casacurvatura – BDAA National Design Awards 2021
Passivhaus International Database: https://passivehouse-database.org/index.php?lang=en#d_6198
Building type: detached single family house
Location: AU - 3831 Neerim South (Victoria)
Number of apartments / units: 1
Treated Floor Area according to PHPP: 272 m2
Construction type: prefabricated timber construction
Year of construction 2019
Other parties involved
Architecture: David Halford 5c Sustainable Building Design
Building services: David Halford 5c Sustainable Building Design
Building physics: David Halford 5c Sustainable Building Design
Certifier: Luc Plowman Detail Green
Craftsperson / parties involved: North South Homes
Thermal envelope
Exterior wall PaneLite insulated timber panel system with rendered insulation cladding U-value = 0.17 W/(m2K)
Basement floor / floor slab Concrete slab with XPS over slab. U-value = 0.598 W/(m2K)
Roof Panellite insulated timber panel system. U-value = 0.104 W/(m2K)
Window Frames: Neuffer, Eco Plano AluClad timber U w-value = 0.8 W/(m2K)
Glazing Triple glazing superspacer Neuffer 4-16Ar-4-16Ar-4coated
U g-value = 0.6 W/(m2K) g -value = 5 %
Entrance door: LogikWin door U d-value = 1.16 W/(m2K)
Mechanical systems
Ventilation Zhender, ComfoAir 550
Heating installation No dedicated heating equipment required. Heated towel rails sufficient.
Domestic hot water Sanden reverse cycle split system DHW.
Additional information
Ecological aspects All water from rainwater harvesting. PV array with battery storage makes building energy self-sufficient.
Other The construction site will be open for PH Days 2019 & 2022.
PHPP values
Air tightness n50 = 0.6/h
Annual heating demand 10 kWh /(m2a ) calculated according to PHPP
Heating load 8 W/m2
PE demand (non-renewable Primary Energy) 68 kWh /(m2a ) on heating installation, domestic hot water, household electricity and auxiliary electricity calculated according to PHPP
PER demand (renewable Primary Energy) 33 kWh /(m2a ) on heating installation, domestic hot water, household electricity and auxiliary electricity calculated according to PHPP
Generation of renewable energy 62 kWh /(m2a ) based on the projected area